The 1876-CC Twenty Cent Piece is a true rarity with only 12 to 20 pieces estimated to exist. The Carson City Mint struck a total of 10,000 examples of the issue before production was halted. In the following year, Mint Director Linderman instructed the superintendent of the Carson City Mint to melt down all Twenty Cent Pieces on hand. This should have included the entire mintage from 1876, however a small number of pieces managed to escape the melting pot.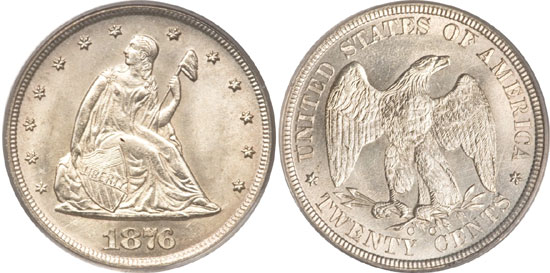 Some of the surviving pieces may have been set aside for annual assay review, although the number of survivors is greater than the number typically used for this purpose. Another possibility is that Mint employees traded a few prior year coins for the 1876-CC Twenty Cent Pieces and kept them as souvenirs or sold them to collectors. The vast majority of the known surviving specimens are in uncirculated condition, supporting these two scenarios.
Needless to say, the issue is extremely rare and examples generate considerable excitement on the infrequent occasions when they come to market. In 2009, one of the finest known pieces graded MS-66 sold for $460,000 at auction. A few years later in 2013, an example graded MS-65 sold for the even higher price of $564,000.
Coin Specifications
Designer: William Barber
Composition: 90% Silver, 10% Copper
Weight: 5 grams
Diameter: 22 mm
Edge: Plain